Farming
---
AUBURN UNIVERSITY, Ala. – Move over Toto. The rains have now been blessed in Alabama, but maybe a little too much. This summer, the state has seen several periods of persistent rainfall leaving many hay producers behind schedule with their harvesting.
In fact, the USDA reports that only 53 percent of forages for hay production in Alabama have received a second cutting. Around this time last year, that number was at 73 percent. However, it is important to note that producers intentionally cut some forages, such as fescue, only once a year. This delayed production, along with other factors, have producers wondering what this will mean for forage quality and the overall picture.
Impact on Quality
Leanne Dillard, a forage specialist with the Alabama Cooperative Extension System, said rainfall's biggest impact on hay is a reduction in forage quality.
"This reduction in quality happens either as a result of delayed cutting because there is no window to cut, cure and bale the hay or because the hay gets rained on after it is cut," Dillard said.
While it is true that taller grass would increase the quantity or yield of hay produced, it also means the quality of the forage takes a hit. As grass grows taller, there is a significant decrease in some important nutritive values. Therefore, cutting hay on a regular schedule is crucial to ensuring forages have high levels of needed nutrients.
"The longer a field goes between cuttings, the more mature the forage will be," she said. "While this will increase fiber, it decreases crude protein and energy. The forage will also be less digestible."
Insect and Disease Pressures
An increase in the frequency of rainfall also impacts other factors—such as insect and disease pressures. Katelyn Kesheimer, an Alabama Extension entomology and plant pathology specialist, said that insects are unique in the fact that they react differently to weather events.
"Some insects thrive in hot and dry weather, and some do better in this wet weather we've been having," Kesheimer said. "After rain events, fire ants and fall armyworms are two major pests that can cause issues for producers."
It is not unusual to see more fire ant mounds after it rains. However, Kesheimer notes the fire ants were already working to establish their mound and tunnels beforehand. One of the biggest issues that fire ants cause for hay producers is the increased difficulty navigating equipment around the larger mounds.

The bigger issue producers will face is an invasion of fall armyworms. According to Kesheimer, the state has already witnessed high populations earlier this year. The frequent rainfall will not help the situation.
"Fall armyworms can be especially problematic at this point in the summer following rainy periods," she said. "This is further exacerbated if it's too wet for producers to get in the field and treat."
Another insect that needs to be on people's radar is the bermudagrass stem maggot. Kesheimer said, like fall armyworms, bermudagrass stem maggots are present in the state and fields need to be treated. If rainfall keeps producers out of the field to treat, yield loss can increase.
When it comes to diseases, Dillard said producers should keep an eye out for signs of rust.
"Producers may see more signs of rust on some forages, but it should correct itself once it dries out," Dillard said. "In areas that are persistently wet, producers may see a thinning of the stand, especially with bermudagrass, which does not tolerate water-logged soils."
Current Production Status
The status of hay yield and quality in Alabama is difficult to pinpoint. This is because hay numbers are less reported than other agricultural crops. However, by talking with producers and evaluating their area of the state, Alabama Extension professionals can offer an estimation on the status of hay production.
North Alabama
Gerry Thompson, an Extension animal sciences and forages regional agent serving the Tennessee Valley region, said that much of the hay produced in the area is fescue. Because fescue is a cool-season crop, these producers fared well with their harvest.
"We had plenty of moisture and good growing conditions in the spring when fescue is actively growing," Thompson said. "A dry spell from mid-May until around early June allowed most producers to get their fescue hay baled without much fear of it being rained on."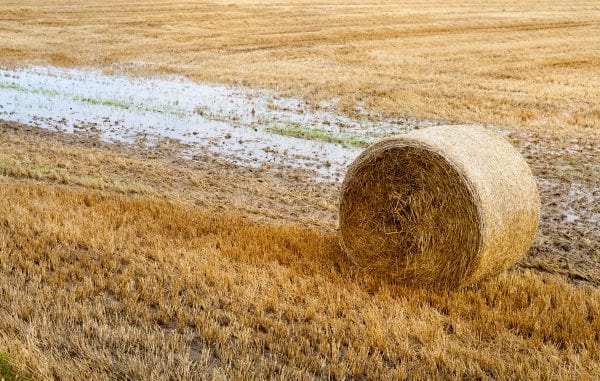 Bermudagrass producers in the area have not been as lucky with their hay production. By mid-June, Thompson said rainfall started frequently occurring, becoming a hindrance for many producers.
"The bermudagrass producers have really struggled," he said. "The high number of cloudy, overcast days, combined with lower-than-normal temperatures, have not favored bermudagrass production."
Overall, the frequency of rain has made it difficult for producers in north Alabama to get their hay harvested. Kent Stanford, an Extension animal sciences and forages specialist, said many of the producers that would have made a second cutting in June have struggled to get that done.
"Some producers that I have talked to say they are two to three weeks behind, which leads to overly mature hay with lower quality," Stanford said. "Looking at the current forecasts, it does not seem like this status will improve anytime soon."
Central Alabama
Josh Elmore, an Extension animal sciences and forages regional agent in central Alabama, said producers in his area have fared much better than their counterparts to the north.
"Hay production in the central part of the state is on schedule for the most part," Elmore said. "Producers continue to dodge these storm events as best they can. Some producers have been able to get their second cutting in, while others are still waiting for a good window."
South Alabama
Moving to south Alabama, conditions echo those in the northern parts of the state. Kevan Tucker, the county Extension coordinator for Clarke County, said after the dry period in mid-May through early June, recent rainfall has been a welcomed sight in some situations but not in others.
"The rainfall over the last five or six weeks has been welcomed for pastures, as well as for hay growth, but not for hay harvest," Tucker said. "Many of the fields cut in May are ready to be cut again with several past ideal maturity."
Tucker said a few producers have attempted to cut hay over the last couple of weeks. However, none of them have not been able to bale it. Like in many parts of the state, continued rainfall is decreasing the quality of the forages day by day.
Looking Ahead
What does all of this mean for the future?
"The good news is there will be plenty of hay when the weather finally breaks," Stanford said. "The bad news is it will be lower quality than a producer wants and needs."
This decrease in quality brings into question the quality of winter feeding for livestock. Just because there is something there to eat, does not mean that it is providing the necessary nutrients for survival.
Dillard said if a producer misses the prime window for harvesting their forages, they should perform a quality test on the hay once it is baled. This will allow them to know the exact forage quality prior to planning supplementation for their livestock. For information on this process, see the Extension publication Collecting Forage Samples for Laboratory Analysis.
Planning
Planning is also going to be key for bringing animals through the fall and winter. Kim Mullenix, an Extension associate professor specializing in animal sciences, said producers need to think about next steps in the event of a high-quality hay shortage.
"A shortage of hay may push producers to seek alternatives strategies for carrying cattle through the winter," Mullenix said. "The following strategies are alternatives that producers can use, but they require advanced planning."
Stockpiling. The state is approaching a window where producers could manage perennial grasses for fall or winter stockpiling. This could help extend grazing into the traditional "forage gap" period in the state.
Planting winter annuals. Early fall is the time to plant winter annual forages. It is important to have seed on hand so producers can plant when the weather breaks.
Alternative feeds. Should producers need to stretch their hay supplies, they can use alternative feed ingredients such as cotton gin trash.
The Extension content piece Coping with Winter Feeding Needs is also a great resource that details several strategies producers can use to make their supplies last through the winter.