Crop Production
---
Alabama Pest Report – Advanced Generation of Moths Move into Crops
August 18, 2020
Posted by: Ayanava Majumdar
Here are the updated moth numbers as of September 3 from various trap locations across the state.
Alabama is still in a risk for a flash drought which, as was witnessed in 2019, can cause terrible crop losses in vegetable production. Calendar-based insecticide treatment doesn't work.
Insects are posing a high risk to crops. Watch for a high number of caterpillars of fall armyworms, yellowstriped armyworms (which have been increasing activity on crops in Alabama over the years), soybean loopers, corn earworms/tomato fruitworms, and squash vine borer
If the state gets into a drought situation, then watch for lesser cornstalk borers and spider mites.
Economic thresholds work well with row crops like peanuts, but not so much in case of vegetables as caterpillars bite more than they eat causing rapid losses within days.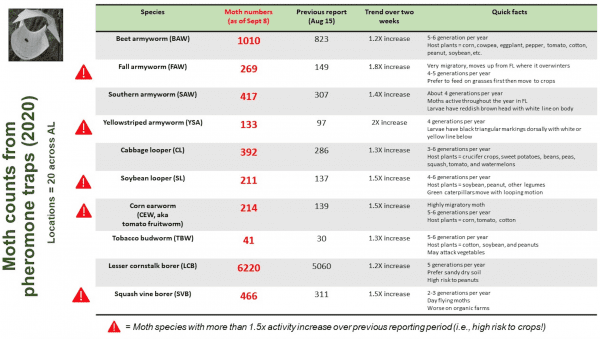 Total Moth Numbers
Beet armyworm = 1010 (1.2x increase)
Fall armyworm = 269 (1.8x increase)
Cabbage looper = 392 (1.3x increase)
Soybean looper = 211 (1.5x increase)
Corn earworm = 214 (1.5x increase)
Tobacco budworm = 41 (1.3x increase)
Southern armyworm = 417 (1.4x increase)
Yellow-striped armyworm = 133 (2x increase)
Lesser cornstalk borer = 6220 (1.2x increase, a major peanut pest – indicator of dry soil conditions)
Squash vine borer = 466 (1.5x increase, a major vegetable pest – builds up in soil)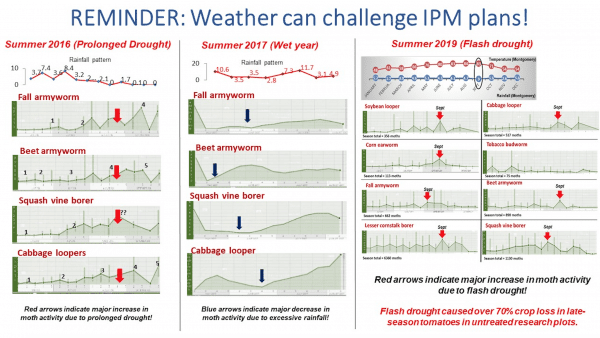 Scouting and Control
Scout crops closely for caterpillars as multiple overlapping generations may be feeding on various crops across Alabama. Consult the Peanut IPM Guide, the Southeastern U.S. Vegetable Crop Handbook, or the organic vegetable IPM slide chart for insecticide choices related to crops.
Before applying, read the product label and follow all application directions. Producers should plan to include insecticides from different chemical classes in their integrated pest management strategies to avoid insecticide resistance and spider mite flare ups. Use pesticides judiciously to protect natural enemies.
Featured image by Whitney Cranshaw, Colorado State University, Bugwood.org