County Resources
---
2019 Herdbuilder Replacement Female Sale
August 5, 2019
Posted by: Kevan Tucker
The 21st Annual Herdbuilder Replacement Female Sale will be Friday, August 30 at the Alabama Livestock Auction in Uniontown.  The sale starts at 11 a.m C.D.T.  Three hundred head of bred heifers and a select group of open heifers will be offered for sale. Consigned lots include Angus; Simmental/Angus; Brangus and Angus Brangus Cross; and F1 Brahman Cross.
The Herdbuilder Replacement Female Sale is a marketing program conducted by the Alabama Cooperative Extension System's Animal Science team and the Alabama Beef Cattle Improvement Association.  This sale has become known for top quality and top genetics in the consignments offered.  It is known as one of the top replacement heifer sales throughout the Southeast. Most consignments come from herds that have participated in the sale for many years, a testament to the quality of the cattle offered for sale.  Heifers are all screened for quality and come from reputable cattle operations across Alabama.
The Herdbuilder Sale, begun in 1999, was developed to add value to quality heifers raised in the Black Belt through enhanced management protocols. Prior to the advent of the Herdbuilder sale, many of the sale consignors were sending replacement quality heifers through traditional feeder cattle marketing chains thereby losing improved genetic gains. Now producers know that good records and sound management can mean substantial returns.  Over the years, buyers have learned that top quality animals are offered at this sale which have the potential to make long term profitable replacements in their herds.
For more information, contact Kevan Tucker, sale manager and Clarke County Extension Coordinator at (334) 534-2539  or at tuckejk@aces.edu.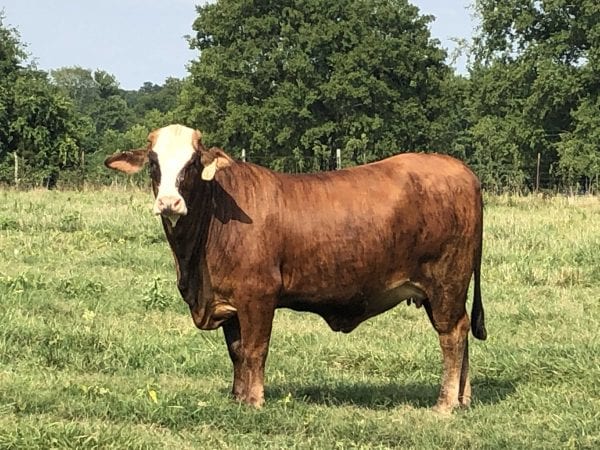 Print a copy of the Herdbuilder Sale flyer here.
Learn more about this year's lots below.  You will find information on each lot including descriptions and images.
2019 Herdbuilder Sale Consigners
| Consigner | Lot Information |
| --- | --- |
| Beeker Cattle (Bred) | PDF |
| Beeker Cattle (Open) | PDF |
| Blackbelt Regional Research and Extension Center | PDF |
| Brentwood Farm | PDF |
| Brussard Farm (Spring) | PDF |
| Brussard Farm (Fall) | PDF |
| Burrell Farm | PDF |
| C&C Farm | PDF |
| Cauthen Farms | PDF |
| Cleveland Land & Cattle (Fall) | PDF |
| Cleveland Land & Cattle (Winter) | PDF |
| Colvin Farms | PDF |
| Cunningham Farms | PDF |
| Gunter Farm | PDF |
| Hardy Farms | PDF |
| Lawler & Son | PDF |
| Leto Farms | PDF |
| Mize Farms | PDF |
| Morrow Farm | PDF |
| Prairie Lakes | PDF |
| Rafter S Bar | PDF |
| Rasco Angus Farm | PDF |
| Simmentals of Alabama | PDF |