Business & Community
---
Business One on One
December 31, 2019
Posted by: Jazmine Brant
What is Business 1-on-1?
Current and aspiring entrepreneurs gain advice in business operations: marketing, finance, industry regulations.

Business 1-on-1 provides opportunities for current and aspiring entrepreneurs to openly discuss business-related topics.
Business 1-on-1 mentors entrepreneurs to start a business or to improve current business operations.
Business 1-on-1 focuses on marketing, financial & business management, industry regulations,
leadership influence, how to obtain & develop business assets (cash, goods, and services), and evaluate the current state of a business.
Who is Business 1-on-1 for?
Business 1-on-1 is for current or aspiring small business owners of all ages and backgrounds.
We welcome all business owners from those that operate individually from a home office, to those with commercial storefronts, office space, and employees.
What is the goal of Business 1-on-1?
Small businesses are critical to the economic growth, success and sustainability of a community. The goal of this program is to strengthen economic and community development by helping small businesses to take the next step.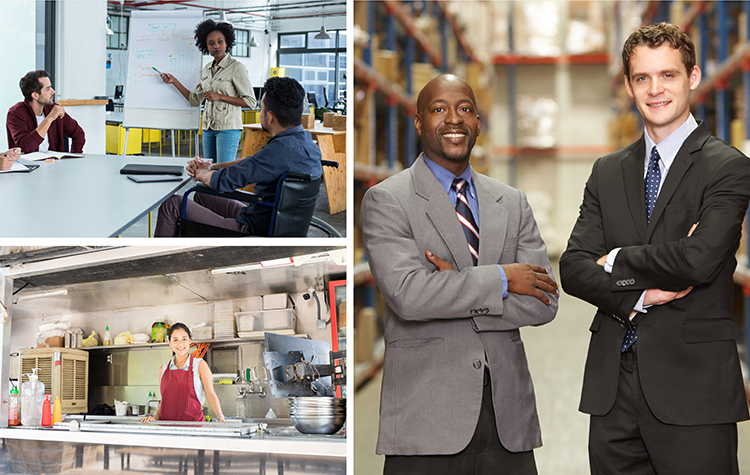 Traits that Entrepreneurs Share
Passion for their work.

Self-starters or highly motivated people.

Disciplined with a focus on making their business work.

Courageous and willing to take risks.

Strong people skills that are needed to sell a product and to motivate staff.

Creative people who find that special niche in the market to make their product or service unique and valuable to consumers.
Small Business Facts
You must have a business license or permit before operating a business in Alabama.
More than 30 million small businesses exist in the United States, employing 60 million people or 48% of the labor force in the private industry

(SBA, 2018)

.
Small businesses help to reduce unemployment, introduce new products and services, and stimulate economic growth.
The average age of a successful startup entrepreneur is 45

(HBR, 2018)

.
In Alabama, small businesses employ about 776,000 people or

48% of the private workforce.
Contact a Business 1-on-1 representative
State Office – Alabama A&M University
Dr. Kimberly Sinclair Holmes