The 4-H Beef It Up! Project teaches recommended management practices for growing and raising cattle for meat production. Participation will help youth understand how to produce a meat product of the beef industry, learn entrepreneurship and record keeping, manage a healthy beef animal, recognize current issues affecting the beef industry, and realize the pride of accomplishment.
Who Can Participate
Any young person age 9 through 18 as of January 1 of the club year can participate. You do not have to be a current 4-H member, but you must complete a 4-H enrollment form if you are not a member.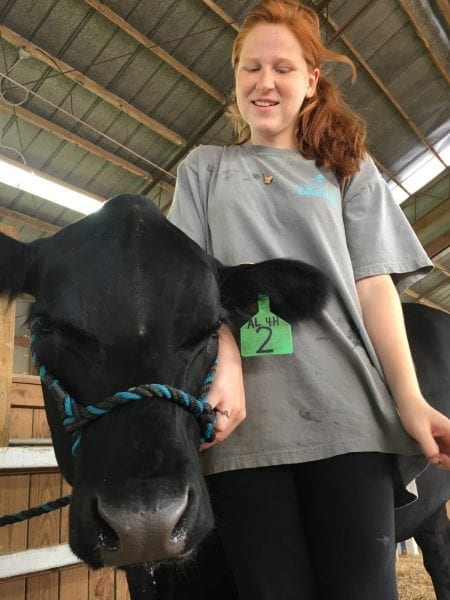 How It Works
As a Beef It Up! participant, you are responsible for purchasing one or two beef animals (steers only). You will care for your animal(s) for at least 200 days, starting in the fall. In the spring, you will enter one or both of your animals in the Alabama 4-H Beef It Up! Show. There are two categories from which to choose: halterbroke or penned. You may enter only one animal per category.
The goal is to produce an animal that is market ready and finished fattening at the time of the final assessment. There is no minimum weight requirement for your animal, but it should be between 16 and 20 months old at show time to ensure that it has had enough time to grow to market weight. The expectation is that you will process the animal when it reaches its optimal market weight and finishing.
Meeting Requirements
You and a parent or legal guardian will attend a mandatory meeting where the parameters of the program will be explained. You will receive dates and deadlines for participation, information to help you prepare and raise your beef animal, and dates and locations for validation.
Beef It Up! curriculum materials:
For questions about accessibility or to request accommodations, contact Extension Communications and Marketing at 334-844-5696 or extcomm@aces.edu.