About Us
---
AUBURN UNIVERSITY, Ala. – A piece of history that you may not find written in the history books is the work that the Alabama Cooperative Extension System has done to improve efficiencies and sustainability. For decades, Alabama Extension professionals have worked–often behind the scenes–to help Alabama plant and animal producers implement sustainable management practices to improve their efficiency.
"For everything we do in agriculture, we have to have reliable information," said Mike Phillips, Alabama Extension director. "I learned early on that Extension programming is the information that farmers rely on so much. What we do in Extension is so important because we make a valuable difference, helping producers make their livelihood."
Efficient Programming
To accomplish this great work, Alabama Extension has developed many programming outlets that extend this research-based information to the public. Through online courses, webinars, educational articles, videos, in-person meetings and more, Extension professionals work with producers to implement more efficient practices in their operations.
When thinking about improving efficiencies, Phillips said Extension has two programs that quickly come to mind: Beef Basics–an online course and iBook–and Forage Basics, an online course.
"These two programs talk a lot about management plans such as how you select both animal and plant species, optimum planting dates and rates, optimum fertilization practices, soil testing and more," Phillips said. "Anything we can do from a management standpoint to make those production systems more efficient is covered in these programs."
Extension's Role Over the Years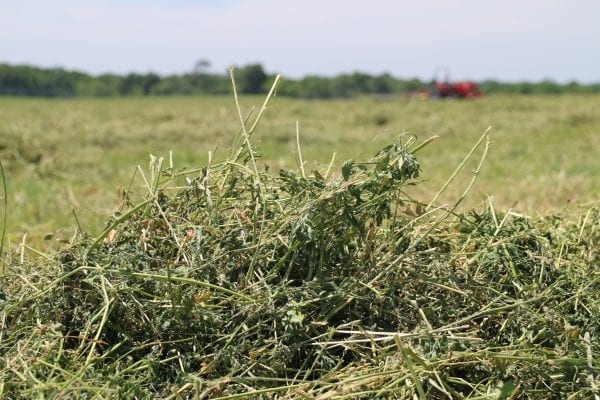 For the many professionals that have worked at Alabama Extension, few of them carry the far-reaching reputation of Don Ball, a former forage crop agronomist. Starting with Extension in 1976, Ball established his name as one of the industry's leading experts in forages.
"The mission of Extension is to provide research-based information that can benefit the financial well-being and improve the quality of life of the general public," Ball said. "Alabama Extension personnel have done a great job of extending that information to the public over the years."
Over his 35-year career, Ball said he witnessed first-hand some of great strides the industry has made in efficiency.
"Without a doubt, efficiency within the area of forages and livestock production has greatly improved during the time of my career, and there are a lot of different reasons for that," Ball said. "One example is the improved animal nutrition management practices that come from ongoing research in forage and livestock production."
In addition to these improvements, Ball said producers have become more efficient in how they establish and manage their forages.
"We have had a lot of improved forage varieties developed and a lot of work done in recent years with grazing management to help sustain these forage stands," Ball said. "Also, I think producers now have a heightened awareness of the value of reducing stored feed requirements. This is important to overall economics of livestock production."
While many practices have been improved over the years, Ball said the work of Extension is never done. He knows the industry will continue their efforts to make the industry more sustainable.
The Science Behind Plant and Animal Efficiencies
Science is behind all of the Extension research that improves efficiencies within the industry. Phillips said it is extremely important that this science-based information is the foundation of everything Extension does.
"The science-based information to me is so important because it is unbiased information collected by our researchers," Phillips said. "It is that credible, unbiased information that we disseminate in forms that can be used by the public."
Ball said using the practices created from this science-based research is absolutely essential to having an efficient forage and livestock production system.
"There is no question that producers want to have environmentally friendly and sustainable operations," Ball said. "It is essential for them to be efficient if they want to have a profitable program."
Down to Earth: Agriculture Sustains Alabama
Alabama Extension is getting Down to Earth. Why? Because agriculture sustains Alabama. Whether your ag experience is in the grocery store, in the classroom or as your profession—Extension has a resource for you.
We are proud to be partnering with the Alabama Agribusiness Council, the Alabama Cattlemen's Association, the Alabama Department of Agriculture and Industries, the Alabama Farmers Federation, the Alabama Poultry and Egg Association, the Alabama Forestry Commission, Sweet Grown Alabama and the Alabama Association of RC&D Councils.
Alabama Extension's Down to Earth resources are available at www.aces.edu/go/DowntoEarth.