About Us
---
ALABAMA A&M UNIVERSITY, Ala.—Alabama Extension at Alabama A&M University is proud to announce that Ciji Griffin and Danielle Rudolph are 2020 Extension Professionals' Organization (ESP) Epsilon Sigma Phi award winners.
About the Winners
Danielle Rudolph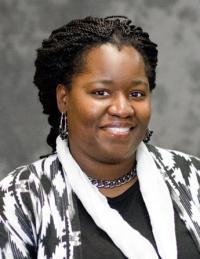 Rudolph is the recipient of the Mid-Career Distinguished Service Award that is given to an Extension employee with outstanding performance during 10-20 years of service. She has served Cooperative Extension in some capacity for the past 16 years.
"Working with Extension is a rewarding experience," Rudolph said. "Throughout my career, I've met so many amazing people, from dedicated program participants to committed partners and spirited volunteers."
Through these experiences, she garnered skills in fundraising, project management and event planning. Rudolph was recently appointed as the program coordinator of the Virginia Caples Lifelong Learning Center (VCLLI). In this position, she will continue to implement programs that impact families and older adults across the state.
"Having little to no history in Cooperative Extension programs during my childhood, I wasn't familiar with the various ways that Extension makes meaningful impacts in the lives of individuals and families," Rudolph said. "I have developed immensely and these skills and abilities have positioned me to serve Alabama citizens in a different capacity. I look forward to working with the VCLLI and to continue the legacy that Dr. Caples left behind."
Ciji Griffin
Ciji Griffin works in the Montgomery County
area. Griffin and her team were honored with the Diversity/Multicultural Award for coordinating an event dedicated to the legacy of Thomas Monroe Campbell. Campbell was one of the first African-American Extension and 4-H agents.
Griffin, along with Janet Sullen from Tuskegee and Daniel Sullen from Auburn University, coordinated the Thomas Monroe Campbell Scholar Bowls. This is a Jeopardy-style game that tests the knowledge of students with subject matter learned in school. These subjects cover everything from black history to mathematics. Griffin also implements programs in consumer sciences and family and child development.
"Nothing is more gratifying than watching young people who are excited about learning. It is an honor to receive this award and to work alongside dedicated partners," Griffin said.
About the Awards
The ESP Epsilon Sigma Phi Mid-Career Service Award pays tribute to an Extension professional that consistently exhibits leadership and excellence in delivering Extension programs for 10-20 years. The Diversity Team Award recognizes outstanding program achievements targeted to diverse and multicultural audiences. The ESP is one of the oldest and largest organizations of Extension professionals in the country.
For more information about Alabama Extension programs at AAMU, contact Kimberly Sinclair-Holmes at (256) 372-4941 or email ksh0035@aces.edu.