About Us
---
ALABAMA A&M UNIVERSITY, Ala.—The Madison County Soil and Water Conservation District (Madison County SWCD) and the local USDA National Resource Conservation Service (NRCS) recently honored the Agribition Center of Alabama A&M University (AAMU) and its dedicated staff.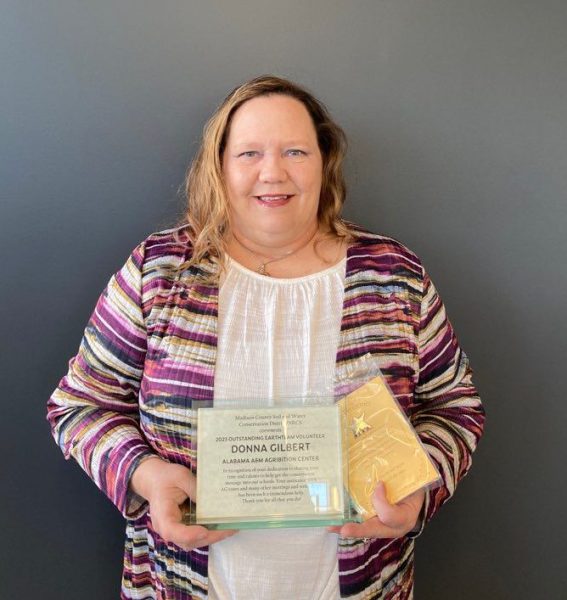 About the Awards 
Administrative Support Specialist Donna Gilbert received the 2023 Outstanding Earth Team Volunteer Award. Gilbert has provided office support for the NRCS Earth Team program for five years. Earth Team volunteers work with conservationists "on private lands to improve soil quality, conserve water, improve air quality, and enhance wildlife habitat" and perform other related duties.
"It is nice to be acknowledged for the work you do in your community," said Gilbert. "The staff at Madison County SWCD and NRCS are among the best when it comes to conservationists."
Outstanding Business Award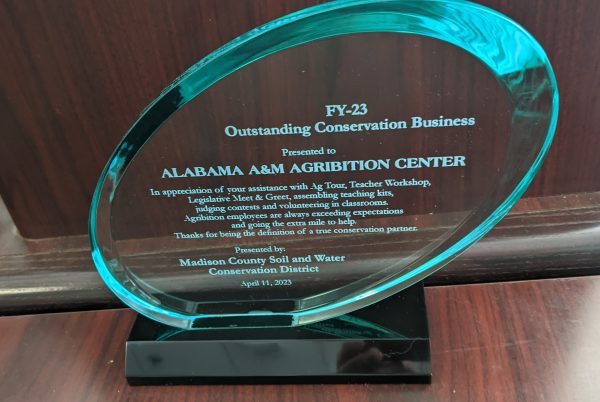 In addition, the Agribition Center received the 2023 Outstanding Conservation Business Award. The Agribition Center is the site for many Madison County SWCD activities. These activities include agricultural tours, teacher workshops, legislative meet-and-greets, judging contents and classroom projects. The dedicated work of the Agribition Center staff—Gilbert, Eric Noble, Timothy Smith and Robert Spencer—helps to make these activities possible.
"Congratulations to Donna, Eric, Tim and Robert for their honor and outstanding service to our community and partners in Madison County. We are fortunate the Agribition Center continues to be a major venue for many activities in the area," said Majed El-Dweik, AAMU vice president of research and economic development and interim Extension director.
About the Agribition Center 
Alabama A&M University's Agribition Center is a multipurpose facility located near the campus on 40 acres of land. Daily operations are managed by the Alabama Cooperative Extension System with support from AAMU and its College of Agricultural, Life and Natural Sciences. It is an ideal location for numerous activities, such as livestock competitions, craft shows, conferences and professional meetings.
To schedule an event or a facility tour, contact Donna Gilbert at (256) 689-0274.