Alabama 4-H
---
4-H Summer Camp Creates Lifelong Memories and Friendships
June 11, 2019
Posted by: Brittney Kimber, Sarah Johnson
in Alabama 4-H
AUBURN UNIVERSITY, Ala. – Young people across Alabama are packing their suitcases with swimsuits, sunscreen and bug spray in preparation for 4-H Summer Camp. The Alabama Cooperative Extension System together with Alabama 4-H host the three-day camp throughout the summer each year beginning in June.
"4-H Summer Camp teaches youth to love the outdoors and step out of their comfort zones," said Amy Carbone, 4-H Science School director of environmental education. "The values of Head, Heart, Hands and Health all work together to create a fun, safe and educational camp experience."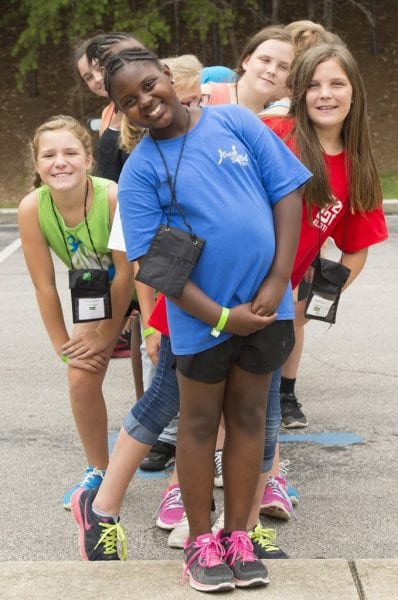 All campers between the ages of 9 and 14 are welcome. Instructors are first aid and CPR certified, lifeguard certified, have passed background checks and have also completed a two-week summer camp training. In addition, Alabama Extension staff and volunteers chaperone each camp session. They have also cleared background checks and completed 4-H overnight chaperone training.
Camp Activities
The Alabama 4-H Center has many activity stations, perfect for camp programming. For example, canoeing, swimming, water games, team building activities, a wildlife watch and a Luau party are a few of the activities this summer.
Each activity is purposefully selected to positively impact and shape camp experience. In addition, group support activities help campers work together, build relationships and support each other with encouragement.
"Summer camp is my favorite time of the year. Campers are always full of energy and eager to try new activities," Carbone said. "I look forward to every camp session watching young people push themselves to be the best friend, encourager and camper they can be."
4-H Summer Camp provides fun opportunities and rewarding experiences that have young people returning year-after-year.
The Alabama 4-H Center is located on Lay Lake near Columbiana, Alabama.
For more information contact your county Extension office or visit www.alabama4h.com.