Alabama 4-H
---
Alabama 4-H Barbecue Champion Offers Grilling Tips for Summer
July 16, 2020
Posted by: Brittney Kimber
in Alabama 4-H
AUBURN UNIVERSITY, Ala. – Alabama 4-H member, Samuel Sutton, is a two-time national 4-H barbecue winner. From Marion County, Sutton previously held first place and the National 4-H Turkey Barbecue Champion title, as well being named National 4-H Chicken Barbecue Champion. As the summer season is in full swing, he is offering grilling tips for young people at home during COVID-19.
Grilling Quick Tips
The 17-year-old grill master focuses on four main tips to add flavor while also staying safe around the flames.
Always keep a fire extinguisher nearby.
Wear heat resistant gloves.
Identify your favorite seasonings.
Use a basting sauce.
"I have found that when grilling different types of meat, it's nice to have a basting sauce to prevent it from becoming tough and dry," Sutton said.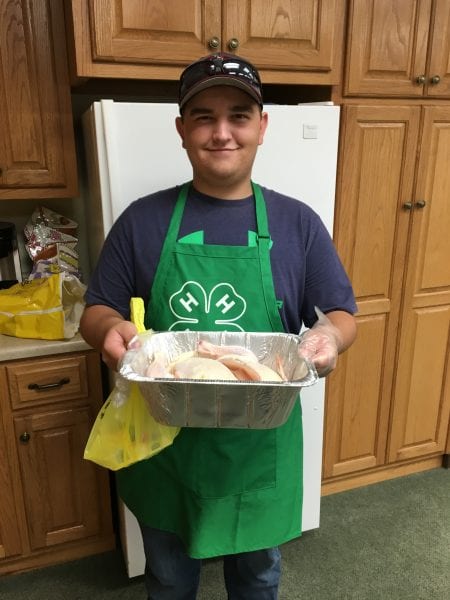 He prefers to baste chicken every 15 minutes with melted butter while it's on the grill.
"My favorite recipe is rubbing chicken in lemon pepper and basting it every 15 minutes with a melted butter and mustard sauce," Sutton added. "This makes chicken look really nice, and it also gives a nice kind of zing to it."
One of Sutton's favorite 4-H memories was his experience in the Turkey Barbecue Contest.
"I remember the night before the awards ceremony thinking there was no way I was going to win," he said.
The Chicken Barbecue and Turkey Barbecue Contests are part of the National 4-H Poultry and Egg Conference. During these contests, young people showcase skills in barbecuing while demonstrating industry knowledge and food safety. However, the 2020 National 4-H Poultry and Egg Conference is subject to change due to current conditions of the coronavirus (COVID-19) outbreak.
"I think 4-H is important because it helps communities and young people come together and grow as better people," Sutton said.
About Alabama 4-H
Alabama 4-H is the youth development organization of the Alabama Cooperative Extension System. It seeks to empower young people with the skills to lead their communities and also grow into future leaders. Visit www.alabama4h.com for more information.