Alabama 4-H
---
Alabama 4-H Announces 2022-2023 State Ambassadors
AUBURN UNIVERSITY, Ala. ­– As another school year approaches, another talented group of Alabama 4-H members have been selected to serve the organization statewide. Thirty members from 19 different counties were selected to serve on the 2022-2023 team of 4-H state ambassadors.
Those selected as an ambassador serve as representative of the organization, leading and assisting statewide with 4-H clubs and youth council meetings throughout the club year.
Joy Scott, an Alabama Cooperative Extension System 4-H leadership and citizenship specialist, serves as advisor to the state ambassadors. She said throughout their year of service, these members will have the opportunity to develop their skills in leadership, citizenship, public relations and team building.
"Working with the ambassadors each year is an extremely exciting part of my job," Scott said. "I get to witness first hand the outstanding impact these members have on their communities and the state as a whole."
State 4-H Ambassadors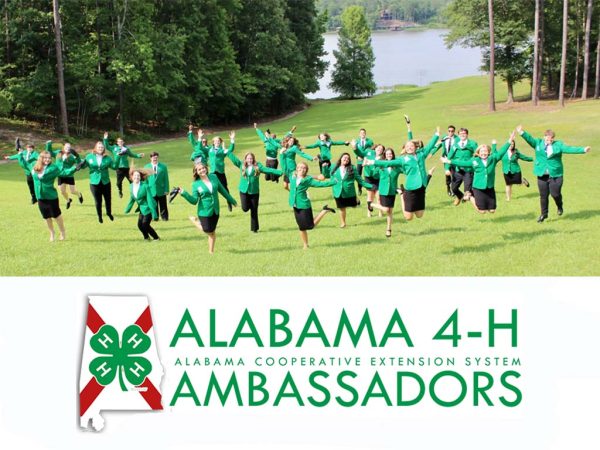 The following 4-H members will serve as state 4-H ambassadors for the upcoming program year:
Luke Stephens – Clarke County (president)
Gavin Yocom – Shelby County (vice president)
Abbeigh Jo Gibson – Washington County (secretary)
Breanna Black – Marshall County (assistant secretary)
Abbi Kate Ogilvie – Randolph County
Aiden MacKenzie – Limestone County
Alana New ­– Etowah County
AnaKatherine Whisnant – Marion County
Ashley McCollum – Clay County
Audrey Perry – Walker County
Blankeney Rice – Tuscaloosa County
Cooper Naylor – Lawrence County
Corey Naylor – Lawrence County
Delaney Dixon – Marengo County
Jade Gartman – Washington County
Jalon Hunt – Clarke County
Jeremy Speros – Pike County
Kalen Alexander – Russell County
Karlee Kirkland – Houston County
Katie Rasbury –Tallapoosa County
Lauren Clardy – Elmore County
Madeleine Yocom – Shelby County
Nash Gilbert – Limestone County
Olevia Rice – Tuscaloosa County
Rachel Allen – Elmore County
Rachel Webb – Barbour County
Rebecca Rasbury – Tallapoosa County
Sarah Sloughfy – Calhoun County
Stanley Stoutamire, Jr – Shelby County
Witt Bell – Shelby County
"I am excited to see what elements of leadership and citizenship this new group of ambassadors will bring to the table throughout the upcoming year," Scott said.
About Alabama 4-H
Alabama 4-H is the youth development organization of the Alabama Cooperative Extension System. It seeks to empower young people with the skills to lead their communities and also grow into future leaders. Visit www.alabama4h.com for more information about 4-H leadership opportunities.